Multi-project management is coordinated planning and control of several projects within a program, an organization or a division.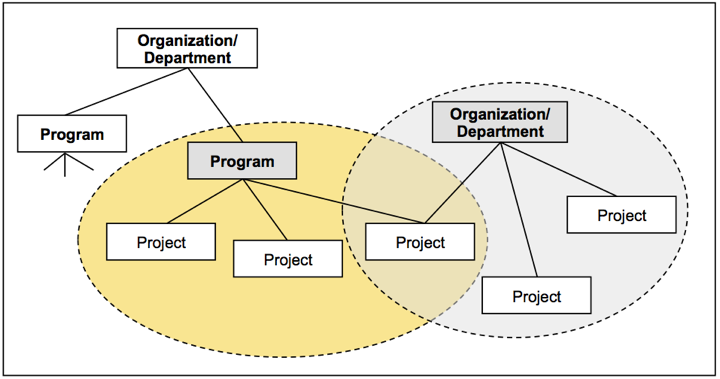 Multi-project management – a new challenge
By integrating single projects into broader strategies or by handling several projects within one program, it is possible to create synergies which in turn are likely to improve effectiveness and cost efficiency in health promotion. Being part of a wider strategy is advantageous for individual projects, as support for tasks such as fundraising, public relations and preliminary research is provided or these are entirely carried out at program level. Early health promotion interventions (in the first two decades after the Ottawa Charta) were generally planned and executed as single projects. Networking with similar projects existed, but projects were usually independent and rarely adhered to a common approach. Generally, these projects were modestly effective and not very sustainable. With the professionalization of health promotion and prevention, it has become more common to frame strategies/policies and programs and then to develop projects to fit that framework. Existent projects in a particular domain are usually integrated into a wider program. If there are any gaps, new projects will be elaborated.
Multi-project management has become very important for health promotion and prevention organizations. Appropriate planning and management procedures need to be developed and established, in particular for the following tasks:
Directing different projects and stakeholders towards common objectives
Keeping an overview on the development of several projects
Creating coherence among the projects and manage them in a coordinated way
Creating common procedures for optimal learning and improvement
Seeking and developing synergies between projects
Organizations usually have medium and long-term strategies which are then translated into operation through annual or multi-annual action plans. In health promotion, many services are still provided in form of projects. This is partly due to the fact that health promotion is a relatively recent field with few established structures and approaches. Any organization that is implementing a number of projects on the same subject matter ought to pool these under one roof, i.e. a program. Individual projects on different topics must also undergo periodical review from a higher perspective, as 'the view from above' puts the focus on common organizational goals, allows monitoring of progress and effectiveness and identifies development potential.
In programs, common goals and approaches are particularly important. What follows is exemplified for multi-project management in programs but is equally valid for organizations or divisions and departments of organizations.
Cross-project planning
As soon as existing individual projects are pooled to form a program, a higher overarching perspective needs to be developed. Then it will be decided if these projects have the potential to contribute to the program's ultimate success. The current projects may need to be modified or new projects may have to be created in order to fill gaps. Projects that cannot usefully contribute to a program's overall objectives do not belong to that program.
When vision, objectives and strategies of a program have been decided and its parameters (legal bases, strategic inclusion, resources, …) are clear, a review of existing projects must come next. Vision, objectives and strategies of current individual projects must be checked for compatibility with those of the program, and projects must be complimentary and not in competition with each other. If any or several program objectives cannot be reached through the efforts of current projects, the scope of these projects needs to be broadened or new projects need to be developed. In the planning phase of a program, it is crucial for program directors to establish close collaboration with project managers of existing or potential future projects as this is the basis for effective future cooperation. It is also at this early point that project management standards and a common understanding of quality and effectiveness must be established.
Programs and projects have similar structures and are confronted with similar challenges and demands for quality. Both programs and projects have a limited duration, need to define objectives and target groups, specify strategies and measures, establish the organizational structure and plan resources, always respecting the values and principles of health promotion. Tools such as templates, checklists or planning charts can be used for projects as well as for programs. However, programs are defined at a somewhat higher level. To give an example, objectives at program level are formulated as overarching cross-project goals without listing individual project objectives. Analogously, actions and measures executed at project level will not be listed in a program description. The program's 'measures' are the individual projects on the one hand and overarching program tasks on the other. Other elements of a program description (e.g. structure, budget) are handled in the same way.
Programs are set on a higher level than projects and typically run longer and are more expensive. Accordingly, the demands on a program's planning, coordination and direction are also higher. In addition, quality aspects are sometimes given a different emphasis (cf. Federal Office of Public Health 2008):
Political and legal aspects are usually more important in larger national programs than in smaller projects
Programs usually need broad consensus from many diverse organizations
Wider geographical cover demands higher attention to regional differences (cultural, linguistic, legal, …)
Quality requirements, procedures and guidelines, as well as planning, management and evaluation templates are defined and standardized at program level and, if possible, ought to be applied by all projects. At the start of a program, it is often necessary to establish a common understanding of central terms such as 'participation', 'health equity' or 'indicators'. The far-reaching standardization of quality for organizational structures and operational procedures applied by all projects facilitates overall program control and management as well as the exchange of information between projects. This in turn increases the program's efficiency and potential for effectiveness.
Cross-project management
In addition to coordinated planning, the second major challenge of multi-project management is guidance and monitoring across all projects. As before, the following points are given for programs but are equally valid for the top-down control of several individual projects within an organization or the direction of several programs. Cross-project control includes the following tasks:
Standardized documentation provides program directors with up-to-date information on the progress of each project
Clearly defined communication within a program secures adequate information of all stakeholders on the most important developments of the program itself and of its individual projects
Coordinated information guarantees a unified image in the public eye
Individual project evaluations should be planned and coordinated in such a way that they will also contribute to the overall evaluation on program level.
Program directors must at all times have a clear picture of developments in each project, in order to intervene early with supportive or corrective action. Program directors will check the attainment of intermediate objectives for each project and will discuss it with project managers at regular milestone meetings. The attainment of objectives is sometimes jeopardized by unforeseen developments in a project, by new knowledge or by changes in the project environment. Any of these events might necessitate the adaptation of a project or the introduction of new measures on program level. Additionally, the program level also needs clearly defined learning and control cycles. These are achieved by establishing distinct stages, each one marked by a milestone, for the implementation phase of the program. The milestones are useful for reviewing each completed stage and, building on that experience, for the forward micro planning of the next one.
Successful program direction depends heavily on a good collaborative relationship between program director and project managers as well as a good information flow between program and projects. The organizational structure of a program must allow for occasions that are likely to promote integration and cooperation, where experiences can be shared and synergies can be recognized and used. Project leaders can be members of the program management. Where this is not the case, other forms of integration need to be sought. Apart from collaboration within a program, it is also important to seek collaboration with external agencies and stakeholders. External communication is the responsibility of the program management which ensures that uncoordinated messages from individual projects are avoided. As a program is usually concerned with one central theme, it makes sense that knowledge management is also organized on program level.