Organizations involved in health promotion and prevention generally have to tackle the planning, implementation and evaluation of projects, as either the organization in charge or the funding organization. There are very few organizations in this area that do not set requirements for how to approach projects. These often include particular forms and instructions for drawing up drafts and concepts, as well as specific tools for project planning, evaluation and documentation. There may also be procedural rules that have to be observed. These types of quality-relevant elements ensure a certain uniformity in approaching projects and increase planning and legal certainty.
In our experience, these types of requirements, templates and tools are only selectively used in most organizations. In fact, systematic quality management for projects has been introduced in very few health promotion and prevention organizations. While quality assurance elements (requirements, templates, checklists) are more likely to be found, there is usually a lack of clearly defined continuous quality development processes. This would involve comprehensive, critical, regular and systematic review of projects based on quality criteria.
Successfully establishing quality development and quality assurance for the long term is only possible if an organization develops and establishes an appropriate quality culture. Key elements of a quality culture within an organization include:
Quality policy: quality development is important and covers all areas of an organization
Quality philosophy: the organization develops a common understanding of what quality means
Quality criteria: all improvements are systematically planned, implemented and evaluated
Development cycles: structures, processes and results are reviewed and improved periodically
Commitment: quality development is a concern for all players
Combining organizational and project logic
When an organization takes on a project, two different types of management– each with its own roles, duties and targets – must be coordinated. If the organization intends to develop and maintain quality in a systematic and comprehensive manner, it has to resolve how to coordinate and manage quality development at the organizational level and for time-limited projects.
If a quality management system has already been introduced at organizational level (e.g. ISO 9001, EFQM or QuaTheDA), the question is how to best make use of a project quality system such as quint-essenz within the existing system. Projects have their own organization and set their own targets, which are achieved by means of appropriate strategies and measures. It is necessary for the project organization to have a certain degree of autonomy from the line organization in order to adequately address the specific challenges of projects. A critical review of how an organization approaches its projects (i.e. on the bases of the quint-essenz evaluation grids for funding organizations and organizations in charge) can reveal where the project organization has too much autonomy and more standardization is required, or by contrast where a rigid framework is limiting the necessary flexibility.
Defining quality development processes for project work
The organizing of programs and projects can be described and structured as a process, which results in harmonization of certain aspects of planning, management and evaluation. Though some may see this as an unnecessary limitation, it has many benefits in practice. It relieves the burden on those involved, reduces duplication and misunderstandings, and facilitates the exchange of experience and a mutual systematic, critical review. The process definitions for programs and projects set out the individual steps and timing for decision-making, designate the people or bodies responsible and stipulate the relevant criteria, templates, tools and other aids. Thanks to quint-essenz, the various documents and tools no longer need to be developed anew, but can be integrated directly, with adjustments as necessary. Below is an example of a project process, from project idea to concept.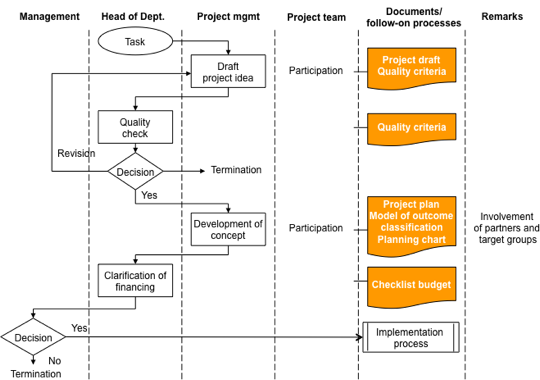 These process definitions also act as interfaces between quality management systems for organizations (ISO 9001, EFQM, QuaTheDA, etc.) and the actual project work. Although the standards and evaluation criteria of quality management systems stipulate that the various aspects should be defined, they do not say how this should be done. While standards and evaluation criteria set out the scope for review and give some leeway, the quint-essenz quality criteria, terms, methodology and tools provide content and instruments for the actual project work.