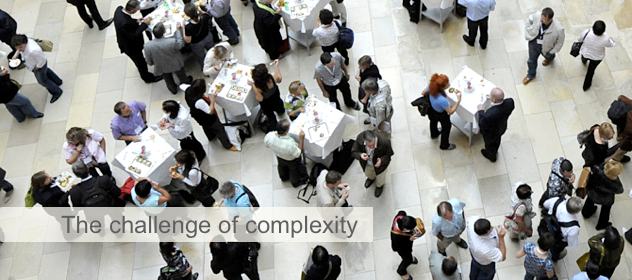 Dear quint-essenz user
This is the first issue of our quint-essenz newsletter with new design features. Every six months we will discuss one selected aspect of quality development and project management, bring you up to date with new information about site features, both content-related and technical, present one of the quint-essenz tools and offer helpful tips. We will regularly present a quint-essenz community member and introduce the profiles of professionals, organisations, projects or groups that have recently joined us. Happy reading!
Your quint-essenz team
The challenge of complexity
Complexity in health promotion and prevention
Professionals in health promotion and prevention are faced with many challenges: health promotion (and prevention) actions are generally sophisticated interventions in complex social systems. Health promotion projects are usually implemented in settings where many people and groups interact with each other in many different ways. Furthermore, settings such as schools, businesses and families conduct a lively exchange with their environment resulting in mutual influence. Each setting is a fundamentally unique and complex social system with multi-faceted and dynamic modes of operation and action which are difficult to predict (Wright, 2006).

Read the editorial
My domain / Project management tool

In "My domain" you can specify whether you want to be informed by e-mail about new discussions starting up in the user groups that you belong to. This can be done separately for each group. People with a public profile can be invited to join groups by simply using their names, rather than via their (not public) e-mail address, as was previously the case. Documents and links can now be attached to any discussion thread in any of the groups. Individual tags can be edited and deleted centrally.

The procedure for generating reports has been simplified and new report options have been added. It is now possible to exclude individual report items and to integrate the logo of a project and/or organisation in the reports.

more

News: Community

If members of the quint-essenz community have common elements in their profile - such as membership in professional associations or in groups - this will automatically become public and visible as long as the community member has made that information public. This is also true for the geographic location of experts and organisations. Each connection can, if necessary, be marked as "private" and thus made invisible again.

List views (for example of experts) are now restricted to max. 50 for faster loading time and greater clarity. Lists are sorted by activity index and alphabetically. The number of displayed and not displayed results are indicated and inform the user whether further filter criteria are useful in order to restrict the number of hits.

more

Tools: List of quality criteria

Each future newsletter will contain a short presentation of one quint-essenz tool. We start with the main tool: the list for quality criteria. The quality criteria are the backbone of our quality system and provide a reference for all aspects of quality work in projects. They encourage systematic reflection and help in assessing projects at every stage, from planning through implementation to completion. Assessing a project with the help of the proposed quality criteria will generate a rating profile showing the project's strengths but also areas with potential for improvements. The profile serves as a basis for prioritizing goals in regards to quality and to take appropriate steps.

more

Book Review

Patton, Michael Quinn (2010): Developmental evaluation. Applying complexity concepts to enhance innovation and use. New York: Guilford.

Developmental evaluation (DE) offers a powerful approach to monitoring and supporting social innovations by working in partnership with program decision makers. In this book, Michael Quinn Patton shows how to conduct evaluations within a DE framework. Patton draws on insights about complex dynamic systems, uncertainty, nonlinearity, and emergence.

New profiles on quint-essenz
BMI monitoring of children and young people in Switzerland

Reserved for members of the working group BMI monitoring Switzerland: In the past few years, "BMI monitoring" has been developed by Health Promotion Switzerland, in cooperation with the school medical services for Basel, Bern and Zurich and with Lamprecht & Stamm Social Science Research and Consulting Ltd.

more

Rainer Christ

After many years of work in the areas of road safety, occupational safety and drug research, I joined Foundation Healthy Austria in 2006 where I am working as a health officer with a focus on older people, health promotion in the local setting and international networking.

more

Interface Policy Studies Research Consulting

Interface is a private consulting firm that has been working for public and private institutions since 1991. We are an interdisciplinary team of about twenty research associates, specialising in evaluations and assessment of public policy in various areas.

more

Agenda
| | | |
| --- | --- | --- |
| 13-09-2011 | Olten (Switzerland) | quint-essenz training (in German) more |
| 15-09-2011 | Lausanne (Switzerland) | quint-essenz training (in French) more |
| 10-11-2011 | Olten (Switzerland) | quint-essenz training (in German) more |

"To acknowledge the individual commitment given to a project by every individual is a true factor for quality!"

Sophie Frei is a qualified oecotrophologist (nutritionist). She joined Swiss Balance, the national programme and project funding agency for nutrition, physical activity and healthy body weight in 2005 as a research scientist. Initially responsible for all the projects supported by the programme, she became its director in 2009. Swiss Balance was launched in 2002 and supported from the outset by the Federal Office for Public Health and Health Promotion Switzerland. Sophie Frei appreciates her varied work in a small team and the wide networking opportunities in the areas of health promotion, nutrition and physical activity. Suisse Balance is in daily contact with a wide variety of organisations at regional, national and international level, as well as with specialists, project managers and multipliers.

read the interview

Tip

Once logged in, your personal start page is in "My domain/ My start page". Displayed are personal favourites and tags, latest news, latest contributions from user groups and open tasks in projects.

more

3835

Statistics

3835 users are currently registered on quint-essenz.ch. Overall, there are users fromn 58 countries. Top 5 countries (origin of users)







142 of the registered users are already visible in the community area via their public profile and can be contacted.

more