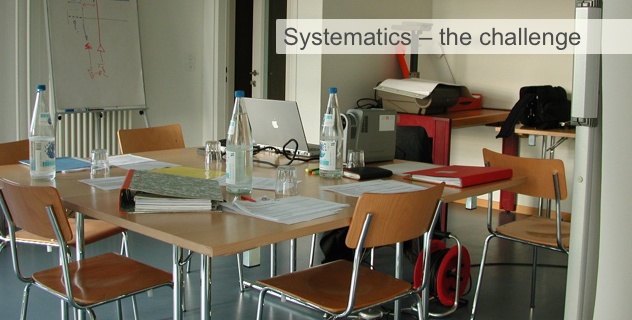 Dear quint-essenz user
Everyone is talking about quality, although the importance of quality management is hardly controversial. However, there are many hurdles in the implementation of systematic quality development: Many organizations do not have the time required for implementation, day-to-day business often takes priority and, in any event, a critical analysis of one's own work is not always welcome. The quality assurance system quint-essenz provides a wealth of support for those who want to plan on a sound basis and regularly analyse their projects. However, lasting quality is achieved only if it is sought, developed and systematically put into practice at the organizational level. The leading article of this newsletter addresses the subject. We hope that it will inspire you as you are reading.
Merry Christmas and a Happy New Year! Your quint-essenz team

Weihnachtskarte von Gesundheitsförderung Schweiz
The challenge of systematics
How can organizations systematically improve the quality of their projects?
In general, intervention projects in health promotion and prevention are planned and implemented by employees in organizations (implementing organizations). Managers of these organizations can pilot the manner and method in which this is done and share responsibility for the quality of the projects. The key – and also the great challenge – in achieving quality in projects, is the establishment of a systematically applied set of criteria.

Read the editorial

List of quality criteria (mongolian version)

Within the "MCA-Mongolia Health Project Institutional Contractor EPOS Health Management, Germany" project, the list of quality criteria from quint-essenz has been translated into Mongolian. In "Train-the-Trainers" courses, Mongolian experts familiarize themselves with the concepts of health promotion and the quint-essenz quality criteria. Users with Mongolian language skills can find more information here on the website Healthy Life is our choice.

List of quality criteria (mongolian version)
Healthy Life is our choice

Project Phases: New Model

Over the next few weeks, in the context of a new publication about quint-essenz, which will be published in early 2012 by Huber Publishing, the current four-phase classification (general planning, detailed planning, implementation and conclusion) will be changed to a new, three-phase project model. It is intended to bring into focus the temporal sequence of the task and to express the cyclical process of controlling better.

The phases of general and detailed planning are consolidated in a new design phase.

The implementation phase is still referred to as implementation phase and consists of several development cycles that are separated by milestones.

The third and final valorisation phase, in contrast to the previous final phase, emphasizes clearly the importance of critical analysis and dissemination of ideas, experience and evaluation of the project results.

Quality system

Are you faced with the task of having to write a final report for your project? The template and instructions for writing a final report have been thoroughly revised and form a good basis for your report. The outline of the final report will be consistent with the project draft and the project design.

If you are planning a larger project, it may make sense to draft a rather detailed evaluation plan in the initial phase already, in addition to the project design and the evaluation chart. Methodological issues and organizational aspects can be described at an early stage. In the quint-essenz quality system, you will find a new template for an evaluation plan complete with guidance and instructions for use.

Quint-esssenz itself is also improving - in keeping with the call for continuous quality development - and the glossary has been revised and supplemented. There are short definitions of terms that have been introduced into the system this year and which make our understanding of these terms explicit.

My Domain

Registered users previously have been able to save their favourite pages by clicking on the asterisk symbol (*) on any page, and viewing and editing their list of personal favourites on their own homepage (My Domain/My Start page). New favourites can now be stored directly in the user's own star-selected menu in the main navigation bar.

Bilateral messages can now include attached documents and links as was already possible in special interest discussion groups.

Community

In the community section of the platform, only the first 50 hits are displayed on the first page on the list view.

The activity index of publicly visible organizations and professionals is new and highlighted in varying degrees of brightness on the map view.

The presentations of public expert groups are now visible on the map view with the addresses of public members.

The platform has long offered organizations in health promotion and prevention an opportunity to publish vacant positions. Job opportunities can now be described and published in several languages. Registered users can now subscribe to receive descriptions of vacant positions. If they so wish, they will be automatically notified by email about newly posted positions.

Help

In the public forum, posts of registered users who have public profiles are automatically seen with their real names and photos. You can now set and display a nickname for the public forum under My Domain/My Preferences. If no nickname is specified and the profile is not visible, "Anonymous writer" will be displayed instead of a nickname.

Tools: Evaluation grids for organizations

There are two evaluation grids: one for funding organizations and one for organizations which are responsible for implementing projects in health promotion and prevention. With these grids, managers can determine where they stand in terms of developing and promoting quality or when handling their own intervention projects. With the help of the grids, key strengths and areas for improvement are identified, quality targets can then be defined and appropriate measures taken.

Evaluation grid for organizations in charge of projects
Evaluation grid for funding organizations

New profiles on quint-essenz
Working Group Soft Drinks - Drinking Water

This working group, which was brought to life by Health Promotion Switzerland, launches the theme of soft drink consumption and drinking water in relation to healthy body weight in children and adolescents in Switzerland. It is developing ways to communicate about drinking water and other intervention measures, paying particular attention to draw on existing experiences.

more

Addiction Info Switzerland

Addiction Info Switzerland is a private organization that is not associated with any political party and recognized as a non-profit organization. The organization seeks to prevent or reduce the problems of addiction to alcohol and other psychoactive substances. Addiction Info Switzerland is active on a national level and also maintains partnerships with institutions worldwide.

more

klemon – Young Children Monitoring

klemon is a proven parent-centred early intervention measure for children between two and five who have an eating problem or are at risk of obesity. The intervention proposes that children be observed over several months, by counsellors in close cooperation with parents, and with the provision of regular consultations. This is supported by paediatric and family practices.

more

"Leadership is my main job and I like it. I love my work!"

I am a social worker, supervisor and NPO manager (NPO = Non Profit Organization). I have about ten years of experience in these roles. They are the building blocks of my current professional activity, which is the administration of a state specialist agency for the prevention of addictions. Since 2001, I have been the head of 'Addiction Prevention Aargau' in Aarau, Switzerland. The four providers in various regions of the state were merged into a single head office in 2006. Professionally, I am experienced and know a lot about such subjects as change and integration, negotiation processes, organizational development, product development in NPOs, personnel management, knowledge management, quality and marketing.

read the interview

Information Exchange about Interest Groups

Do you work together in a cross-institutional working group with other professionals? Start a special interest user group on quint-essenz and invite members from your working group. All accepted members have easy access to documents, such as minutes of meetings and you can use the discussion forum to exchange information online and to clarify emerging issues. New members will be informed by email about new discussion threads and contributions, unless they have this option turned off.

more

5894

Statistics




5894 visits per month 26082 actions (page views, downloads and outlinks) 4.4 actions per visit 3 min 52s average visit duration 259 max actions in one visit

more