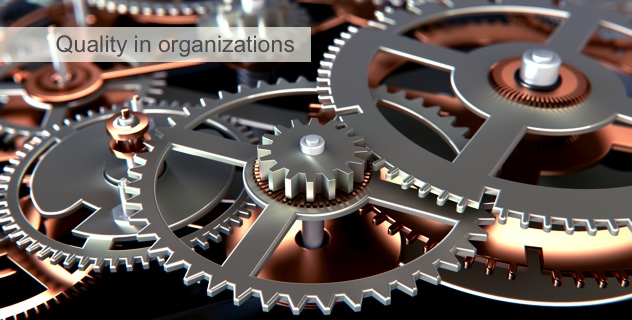 Dear quint-essenz user
In many organizations it is up to the project leaders to assure and develop the quality of their projects. However, a quality management system on the organizational level can provide a general framework for the systemization of project work. This edition of our newsletter will focus on the interaction between a quality system for projects (quint-essenz) and a quality management system for organizations (QuaTheDA) – a winning combination.
We hope you enjoy reading it.
Günter Ackermann
Project manager Quality and Evaluation
Health Promotion Switzerland
quint-essenz and QuaTheDA
How do quint-essenz and QuaTheDA fit together?
Organizations in the field of health promotion and prevention are increasingly looking into the issue of quality. At project level, quint-essenz can be used for the systemization of quality-related processes; at the level of organizational structures and processes, the new QuaTheDA quality management system is a suitable choice for health promotion and prevention organizations. How can the two systems be combined so as to be of use to an organization with a comprehensive quality approach?

Read the editorial
Quality system

The new "Establishing quality development in organizations" topic text shows why project work in organizations should be systematized and how to go about it. The important thing here is to find a balance between standardization at the organizational level on the one hand, and sufficient leeway for projects on the other.

Topic text

My domain / Project management tool

Data is now primarily viewed, entered and edited in the list views of the project management tool. Data is now usually entered in a superposed dialogue box.
The time plan (Gantt chart) can be downloaded as an image file. The selected filters are taken into account.
Reports on descriptions can now also be downloaded as Word documents (.docx).
The function of annual planning for organizations is currently being developed and tested in cooperation with the health promotion unit.

My Domain

Tools: Activity distribution chart

The activity distribution chart chart allows you to clearly lay out the responsibilities of each player for the various key tasks in a project; you can, for instance, determine who is responsible for the budget or evaluation as well as who and/or which project committees need to be included. Systematically determining and clarifying these responsibilities for all projects within an organization is highly conducive to the transparency and efficiency of an organization.

Instructions / Template

Book Review

Läubli Loud Marlène; Mayne, John (Eds) (2013). Enhancing Evaluation Use. Insights from Internal Evaluation Units. Sage.

This new book offers invaluable insights from real evaluators who share strategies they have adopted through their own experiences in evaluation. Readers will learn about the challenges, solutions, and lessons drawn from the experience of evaluators working in a wide range of organizations. Referencing the latest literature, contributors discuss factors that help or undermine attempts to foster an evaluative thinking and learning culture within an organization.

New profiles on quint-essenz
"santé&entreprise – for healthy businesses"

"santé&entreprise" is a bilingual project (German and French) aimed at health promotion and health management in the work place in micro, small and medium-sized businesses in the Biel-Seeland-Bernese Jura region.

more

Mental Health Network Switzerland (NPG-RSP)

The Mental Health Network Switzerland (Netzwerk Psychische Gesundheit Schweiz – NPG) is a national initiative for the promotion of mental health and the reduction of the effects of mental health problems as well as for suicide prevention in Switzerland.

more

Exchange between project leaders of "schnitz und drunder"

The exchange group provides a setting in which questions related to the practice of counselling can be discussed and documents of general interest deposited. The group is composed exclusively of programme and project leaders from participating cantons.

more

Agenda
| | | |
| --- | --- | --- |
| 29-10-2013 | Olten (Switzerland) | quint-essenz training (in German) more |

"If available resources are to be utilized effectively and efficiently, the quality and effectiveness of the various programmes, projects and services must be checked and ensured."

Perspektive Thurgau performs services in the areas of health promotion and prevention, advice to parents, marital, family and youth counselling as well as addiction counselling on behalf of the canton of Thurgau. Since 2011, it has been QuaTheDA-certified in the area of addiction counselling. As the first institution in the field of health promotion and prevention, who already works systematically with quint-essenz, Perspektive Thurgau has now set itself the target of also obtaining QuaTheDA-certification for the area of health promotion and prevention. In the following interview, Judith Hübscher-Stettler, Health Promotion, Prevention and Addiction Officer for the canton of Thurgau, and Doris Grauwiler, Head of the Health Promotion and Prevention Unit at Perspektive Thurgau, explain the motivation behind combining quint-essenz and QuaTheDA and recount their initial experiences in this regard.

read the interview

Tip

The acquisition of project funds often requires project leaders to submit several requests to different funds and funding bodies. This involves repeatedly entering the same information on different forms and using different terminology and structures. With quint-essenz, funding bodies are given the opportunity to provide their request forms in the project logic of quint-essenz, where they can be completed online. Once the project data has been entered into quint-essenz, it can be used for different requests at the push of a button. Health Promotion Switzerland also uses this service for the management of its fund for innovative projects.

more

3.875 mio

Statistics

Since this online entry method for the fund for innovative projects was launched in July 2009, a total of 286 financing requests have been submitted using the quint-essez.ch platform.

Out of the 246 requests submitted up until August 2013 (Periods IP10-IP19), 103 received financial support (42%). The total financial support paid out in this period amounts to CHF 3.875 mio.