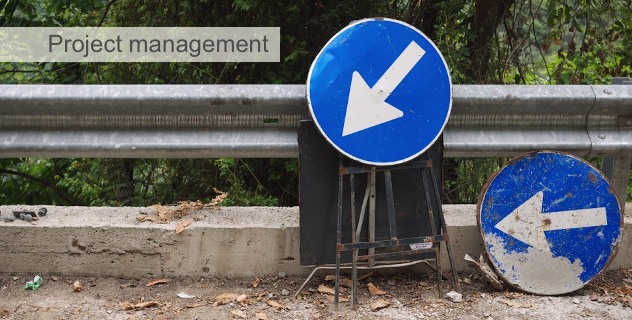 Dear quint-essenz user
Careful project planning forms the foundation for a good project, but is far from a guarantee of success. Once a project reaches the implementation phase, a host of new challenges await: the project environment suddenly changes, collaborative processes develop unforeseeable momentum, and measures prove unsuitable for achieving the desired outcome. Steering a project involves maintaining a constant overview to enable an appropriate reaction to changing circumstances. The quint-essenz quality system now offers an interactive Project Cockpit, which provides a clear overview and quick access to key project management data.
To mark the launch of Project Cockpit, this newsletter focuses on project management.
We hope you enjoy reading it! Your quint-essenz team
Project management
Project development cycles
Those who use traditional project management methods and tools for health promotion and prevention projects rarely go far wrong in the planning stage. However, they can run the risk of trying to stick too rigidly to the plan during implementation. Instead, the focus should be on developing measures collaboratively, periodically reviewing them and making any adjustments as necessary.

Read the editorial
Quality system

All evaluation topic texts have been completely revised. A text on best practice and the corresponding Health Promotion Switzerland concept has also been included.

The funding topic texts have also been completely revised – check whether you have covered everything in your budget using the highly simplified new version of the budgeting checklist: Link

Topics

My domain / Project management tool

The new Project Cockpit gives an overview of key project data:

Current tasks
Current discussion threads
Current events (new!)
Current journal entries
Measures (including interim goals)

This project data can be filtered according to different criteria.

In a newly designed interactive diagram, similar to a Gantt chart, measures can be simply visualized and edited by dragging and dropping. The system requirements are slightly higher than elsewhere on the platform. Internet Explorer Version 9 or higher is required

My Domain
Instruction: Cockpit-Schedule

Tools: Project management chart

The project management chart is an important tool in the implementation phase. It is useful for:

defining the intermediate objectives of each 'milestone' and for the detailed planning of measures and interventions, target dates and responsibilities,
assessing and documenting project progress ('milestone' reporting),
planning the next project phase.

The project management tool now offers an interactive schedule, which attractively presents all aspects of the project management chart. You can continue working with the Word templates in the usual way or change over to the new version.

Instructions / Template

Book Review

Tom DeMarco (1997). The Deadline: A Novel About Project Management. New York: Dorset House.

With his novel, "The Deadline", Tom DeMarco has succeeded in writing a highly enthralling book about project management. The book describes the major challenges of project management in a slightly different form. The fact that it is concerned with IT-projects is of minor importance.

New profiles on quint-essenz
ZEPRA Prevention und health promotion

ZEPRA provides services to the population of the canton of St. Gallen. We focus on non-medical, psychosocial prevention and health promotion. By working closely with the health, welfare and school services, ZEPRA is able to benefit from academic expertise as well as the required practical experience.

more

rauchen? nein danke! (smoking? no thanks!)

The "rauchen? nein danke!" ("smoking? no thanks!") project focuses on smoking prevention and is aimed at 16–18 year-old students at the Kantonale Schule für Berufsbildung vocational school (canton of Aargau). The goal is to deter young people from taking up smoking at this critical time when they are on the cusp of adulthood through information, reflection, active involvement and activities.

more

Association of cantonal health promotion representatives in Central Switzerland (VBGF)

Leading prevention experts and cantonal health promotion and prevention representatives for the Central Swiss cantons of Lucerne, Obwalden, Nidwalden, Uri, Schwyz and Zug meet regularly to network and exchange expertise.

more

Agenda
| | | |
| --- | --- | --- |
| 12-03-2013 | Olten (Switzerland) | quint-essenz training (in German) more |
| 14-03-2013 | Lausanne (Switzerland) | quint-essenz training (in French) more |

"Flexibility and adaptability are essential"

Douglas Gonzalez is an engineer and project manager with a special interest in social processes, particularly when it comes to tackling health issues and promoting a healthy lifestyle among migrant populations. He is currently in charge of the project "Mon Assiette, Mes Baskets" ("Eating well, keeping fit"), aimed at improving the health and physical wellbeing of migrant populations in the canton of Vaud, Switzerland, as part of the regional programme Ça Marche.

read the interview

Tip

Do you work with a huge number of to-do lists that you have to dig out of old records? The project management tool offers a simple and clearly presented solution. Update to-do lists at your team meetings, tick off completed tasks and add new ones. You can now also do this directly in the interactive schedule.

more

1524

Statistics

quint-essenz has reached 1524 healthcare professionals in Switzerland over the past three years through consultations, education and training. Of these, 153 took part in public training sessions, 640 met with quint-essenz in consultations, and 731 attended courses involving quint-essenz





more